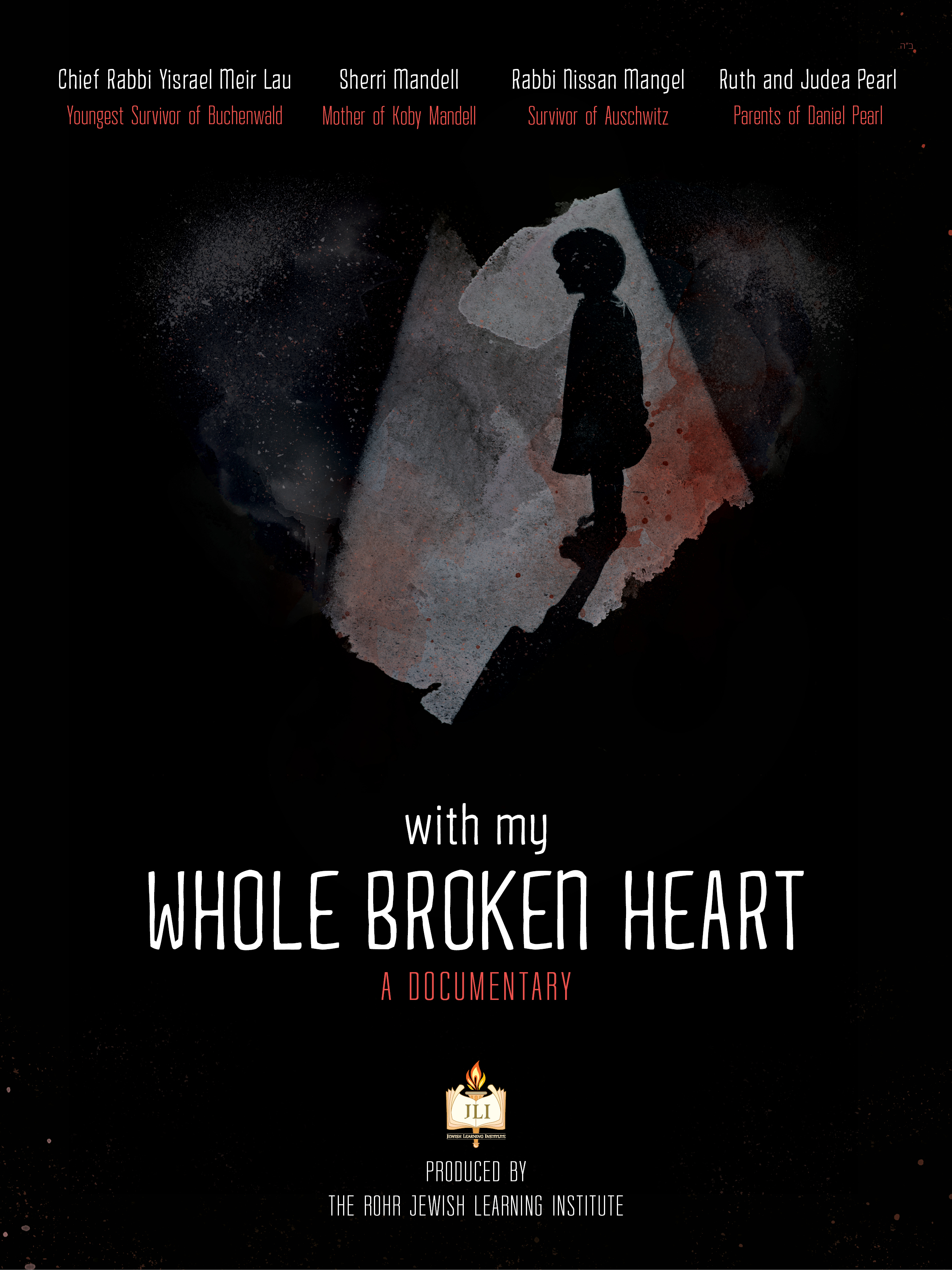 A NEW DOCUMENTARY AND TISHA B'AV PROGRAM
at Chabad of NW Metro Denver 4505 W 112th Ave ~ Westminster
In the summer of 2001, two Jewish teenagers were hiking near their homes in the West Bank when they were stoned to death by Palestinian terrorists. A few months later, Daniel Pearl, a reporter for the Wall Street Journal, was kidnapped and murdered in Karachi, Pakistan; his last words: "My father's Jewish, my mother's Jewish, I'm Jewish."
With My Whole Broken Heart is a professionally-produced and emotionally-gripping 45-minute film featuring heart-wrenching stories of valiant parents whose children's lives were claimed by terror and their inspiring responses to their horrific experiences. The documentary also follows the lives of two of the youngest survivors of Auschwitz and Buchenwald who emerged from the darkness and transformed the Jewish landscape.
The film is framed around the Rebbe's response to the 1956 terror attack in Kfar Chabad that claimed lives of 5 students, and features interviews with Daniel's parents, Ruth and Judea Pearl; Sherri Mandel, mother of Kobi Mandell; former Israeli chief rabbi, Rabbi Yisrael Meir Lau; and Rabbi Nissan Mangel.
Rabbi Benjy Brackman will lead a group discussion after the documentary
www.COJewish.com
LOCATION
Chabad of NW Metro Denver - 4505 W 112th Ave. Westminster, CO 80031
DATE AND TIME
Sunday, July 26,
Doors open 7; pm
Documentary 7:15 PM
Group discussion 8: - 8:45 PM
CONTACT INFORMATION
720-984-5805
www.COJewish.com
FEE $10

Please note that due to the fast, refreshments will be served at the conclusion of the fast at 8:54 pm.